Satyameva Jayate! Truth Alone Triumphs! The Prolife Movement in India
Carmel Nisha Pius Franco is a young Indian woman with a passion for creating a culture of life. I first came across Carmel on social media, and was drawn to her unique graphics which tell the shocking story of human rights abuses in her country. I asked her to write about her experiences for Light up the Darkness, and this is the result.
You can follow Indians for Life on these social media channels:  Indians for Life Facebook page,  totuztuus on Instagram, the  Indians for Life youtube channel and their blog - Indians for Life.
Satyameva Jayate!  Truth alone Triumphs!
This is the motto of India- the land of paradoxes.
The land known for its diverse culture and deep spirituality as well as for the least tolerance and inclusion. The land of Goddesses where the most horrible crimes against women are committed. The land known to be over-populated but whose fertility replacement level is lower than the US, France, Australia and New Zealand. The land visited by 2 apostles of Christ yet has only 2% of Christians; a democratic country where 6.2 million men were sterilized in one year. It has one of the fastest- growing economies but it is where human life is the most exploited; the land which worships cows and which legalized abortion even before the USA. The world is allowed to see an India which is far different from the Truth.
India's Dark Side
So what's the reality about this land which the world or even Indians themselves are not allowed to see?
India has a far darker side than the one projected by popular media. If one is familiar with the primeval social evils like sati – the bride burning which is now extinct, casteism - a form of institutionalized racism where 'untouchability' still exists in reality, female infanticide, gender discrimination, polygamy, child marriage, dowry, child labor, honor killings etc which are still present, there are newer threats to the dignity of human life which have plagued the nation  recent times.
Considering Pope St. John Paul II's definition from Evangelium Vitae (Introduction, 3): India is certainly in a dangerous position with divergent forms of attack against human life and the dignity of the human person, and the way it has been dealt with by either religious, secular, educated or uneducated alike.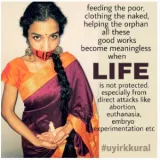 Legal Abortion and Other Horrors
So what's exactly 'the problem'? India legalized abortion in 1971 to reduce the birth rate and to protect medical practitioners from criminal action being taken against them for performing abortion. Since then approximately 6 million abortions are said to have been performed annually. The number of illegal sex-selective abortions is still skyrocketing, India has secret sterilization camps where as many as 80 women can be sterilized in 6 hours, and the Indian government is socializing people to accept a 'one child policy' which could turn out to be as violent as China's.
India also exports aborted baby parts to USA and Canada for research and has legalized passive euthanasia. India is also a well sought global market for organ trafficking, has commercial surrogacy, women dying of egg donation, flourishing IVF clinics, embryo freezing, unregulated biotechnology firms and stem cell research.
Organizations from outside India are pushing abortifacients as birth control to exploit poor women; they are socializing the younger generation into using sex as sport, devaluing motherhood, eugenically wiping out children in the womb and much more. We have Marie Stopes and International Planned Parenthood Federation-affiliated clinics.
However adding to this unimaginable hell is the lack of awareness among prolifers about these diverse threats to human life in this country, a lack of proper knowledge about the problem and the complete absence of a Catholic response to the monstrous Culture of Death swallowing the nation.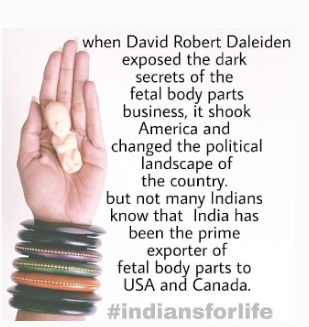 India's Inadequate Response
Fetal model exhibitions are not enough to promote a Culture of Life. The word 'prolife' in India is rather dealt with in a more western approach without any attempts of acculturation to the Indian context, either in terms of dealing with problems nor in terms of response required. While conventional exhibitions showcasing the fetal models and conferences on abortion and population economics are still needed, those are simply not the only response to dealing with the Culture of Death prevalent in the country.
India does not have an organized religious or secular prolife movement, no prolife news media, and rarely has a Crisis Pregnancy Center in the more remote corners of the country. Even the CBCI (Catholic Bishops Conference of India) does not have a proper office to guide people on the Christian response to the changing cultural climate in India.
Some dioceses have their own inactive 'Respect Life' offices but most of the religious do not know about 'Humanae Vitae' or 'Evangelium Vitae'. Doctors do not have conscience protection rights, women who undergo abortions do not have post-abortion healing. No sidewalk counseling, no vigils, no marches, no youth clubs. There are very few organizations which try to promote life however their approach is either too narrow with a know-it-all attitude or else they lack the necessary tact for an effective outcome.
India needs Humane Vitae
While we were working with the Sisters of Life and doing sidewalk counseling on the streets of New York, an increased awareness of the situation in our country dawned on us. We knocked on the doors of several prolife leaders, but providence led us to Monsignor Reilly, the founder and Director of the Helpers of God's Precious Infants who mentored us for months to help us respond to the issues happening in India. After working with Monsignor and organizing local vigils in NJ we started some serious work regarding India, analyzing the problem and ways to respond. If I say the answer to India's problem is Bl. Pope Paul VI's encyclical Humanae Vitae, I might not only be laughed at but it won't be a surprise to get trolled or subjected to stone pelting.
Also if I say it was the same opinion which Mahatma Gandhi echoed even before the publication of Humanae Vitae in 1968 people in India might attack not only me but also Gandhi himself. But, Satyameva Jayate!
India needs more than just conferences on human anatomy and fetal development. India needs an increased awareness of reverence for human life: it needs a multi-faceted approach to building a Culture of Life. Most importantly India needs The Helper's way of defending life.
So carrying the vast knowledge given to us by Monsignor, trusting the Wisdom of the Church and abandoning all else to the Divine, the five loaves and two fish were handed over.
Multiplication of Bread
The response began in a very humble way with simple person-to-person interaction to bring about awareness of the problem in India and the need for an integrated response to the issue. People have been trained to accept abortion as a normal procedure, and brainwashed to accept that India needs to tackle the problem of overpopulation instead of corruption. The mindset had to be changed, consciences awakened. Certainly the task of reaching people speaking at least 22 different languages is no joke!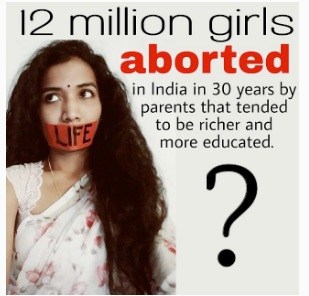 The work began with social media tools like Facebook, Youtube, Instagram and blogging to provide a general awareness about the much-needed cultural change to bring about a reverence for Life. Starting from shouting about Planned Parenthood and its affiliate FPAI (Family Planning Association of India) to working with Family Commissions in a few Archdioceses in India to helping them begin 'Respect Life' offices was a journey unplanned.
Creating graphics, doing research work, analyzing policies to enlighten people, making videos, writing blogs, maintaining social media tools, networking with organizations, working with the Church: all this is done, not by salaried staffs in paid office spaces, but only by two people from the same family.
The work ahead is huge and everyone has the personal responsibility to respond to this tragedy.
We cannot waste time waiting for social workers, NGO's, government, revolutionaries or even priests to do something.
As Mother Teresa said "Don't wait for leaders, do it from person to person".
And no matter how things might look as of now "Satyameva Jayate! - Truth alone Triumphs!