Writing Straight With Crooked Lines
Todays' post is a little different from the kind I usually feature.
Lorraine Reguly is a respected writer and blogger who has endured a great deal of suffering in her life. Lorraine has kindly answered a few questions about her past and how it is possible to thrive in the face of adversity.
Please click through all the links to read more about her experiences, especially this one that tells how Lorraine chose life for her son.
I'm very grateful to Lorraine for taking the time to respond to me and share her story here with us.
Note: It's very important for us as Christians to remember that grace is a gift, and that many people are not  at the point of making a commitment to living the Gospel message. Please be respectful if you decide to leave a comment below.
Out of all the difficult experiences you've had, which one has been the hardest to deal with and why?
Being raped was the most devastating thing I've ever had to deal with, because I was raped when I was a fourteen-year-old virgin. I was brought up in a Catholic family and was taught to save my virginity for marriage.

After I was raped, I had to deal with various negative emotions and didn't know how to do so. I also didn't tell anyone that I was raped, and keeping things to myself only added to my burden of grief. I tried to commit suicide. I ate. I turned to drugs. I became promiscuous. I quit school. In my mom's words, I became a "walking zombie" for two years.
Are you able to forgive? How have been able to do this?
I am able to forgive… to a certain extent. I've not forgiven my rapist for what he did to me, and I doubt that I ever will.

When I charged him, however, and we went to court, I DID find some type of closure. I was also happy to see the stress and worry on his face when he knew there was a very real possiblity that he would go to jail for what he did to me.

Unfortunately, one of our mutual "friends" got up on the stand and lied for him, so he was found not guilty.

In addition to my religious beleifs, I believe in Karma, too, and think that he will "get his" someday.

I've learned, too, that the more I talk about it, the easier things get. I also find writing about it to be cathartic. I've published a few things on my websites about this experience, and was even inspired to write a poem, In One's Eyes, which many people LOVE.

I've also written a book of short stories, Risky Issues, to help me deal with some of my experiences. The stories in Risky Issues bring to light many issues faced by children, teenagers, and even adults: identity, drugs, abuse, death and friendship. I'm pleased to announce that this book is a part of my local library, too!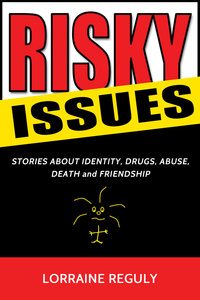 When you turned to prostitution, did you feel you had a choice? What part did drugs take in your decision?
Drugs had nothing to do with my experiences with prostitution. I got into prostitution by accident, actually. I was hitch-hiking one day and the guy who stopped to give me a ride offered me $80 for a blow job. It took five minutes. Because I had already "been giving it away for free," I didn't think it was that big of a deal. The money made it worth it.

I then followed in the footsteps of the other prostitutes in my city, and stood on the street corner, downtown, to see if I could make more money. I did. I then continued to earn money by performing various sexual services, and did this for years. The money almost always made it worth it.
Do you feel that prostitution is a legitimate form of employment that empowers women, or rather exploitation of the vulnerable?
I think that each person's experience with prostitution is unique, and so I can only speak for myself. In my case, it empowered me.

But it had it's cons, too, and in this post, I compare my life now to how my life was then.
How much of your self-destructive behaviour, if any, do you attribute to your abortion?
None. When I had my abortion, I was the happiest person in the world.
I was only sixteen at the time, and knew that I was not ready to be a mom. Plus, the biological father was an alcoholic and I was doing drugs at the time. The chances of having a healthy baby were reduced due to these two facts.
What advice would you give someone who has had many struggles and setbacks to inspire them to keep going?
The best advice I could give someone who has faced adversity is to accept yourself and your past and not dwell it, and to strive to do whatever it is that you want. I know this is hard to do, but it can be done. I'm living proof! I now run my own business, Wording Well, where I offer various services to others, such as writing, editing, blog coaching, and helping others become published authors.

I live a fairly "clean" life now. 🙂
And I'm proud of it.
I've also learned to embrace my past. It makes me unique. It also makes me memorable to others. 😉
Thanks Again, Lorraine, for sharing your story here.
I've often said that 'every person has a story', and what that really means is that every person is made in God's image. Everyone is unique, every person has dignity, and every person is potentially on the journey to their Eternal Homeland.
You may like to compare Lorraine's experience of prostitution with the experience of a former counsellor to Melbourne's working-girls in my interview here.